Here is a photo that shows the difference in trees from the 'normal' tree to a saddle with a Hoop, Freedom or U tree.  (I'll keep posting photos of saddles as I come across them)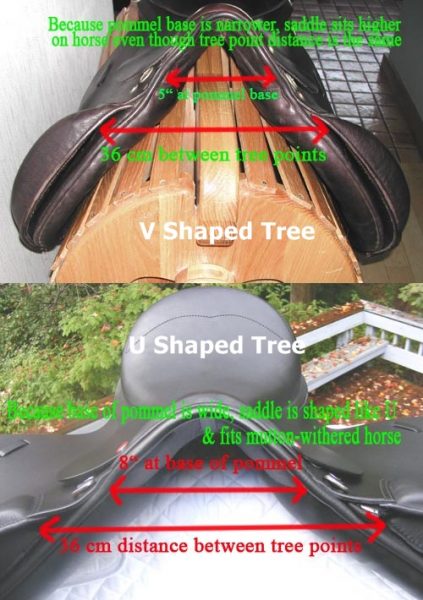 Both saddles measure the same distance at the end of the tree points but as you can see the shape of the pommel is very different.
Different brands call their saddle trees different things.  A majority of saddles are made on a V shaped tree.  Fortunately there are more and more saddle makers (back) building on a Hoop, U, open head or Freedom tree.
The thing is that these aren't a new design.  If your horse requires this type of tree there are old types of saddles that could well fit your horse. Yes, some of those dust collectors sitting in your tackroom could well be more appropriate for your horse than the spiffy, modern saddle you are using.
It is important to note that a Cob tree does not necessarily mean the tree is a U, Hoop, Open head or Freedom tree.  Adjustable trees are mainly V shaped or semi-hoop at best.
To add to the confusion there are Semi-Hoop Trees. These are a cross over between the V-shape and the U shape tree.  We often recommend (and rent) a semi-hoop tree for those ponies and horses that have been in a V shape tree and subject to muscle atrophy.  This is often needed for several weeks to rebuild muscle without compromising saddle fit.