'Fat' Pony Saddles (cos we know they are just big boned)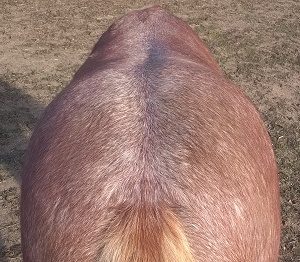 Anyone who has looked for a decent pony saddle will reluctantly remember the frustration caused by the exercise.. Especially if after a specialised saddle.
Firstly, there are very few deep seated saddles out there. Watching our 3 year old bounce around on the end of a leadrein in a slippery, virtual flatseat saddle has the hearts in the mouth of many parents. In fact, the old 1980's Bates Esperance (made in Australia) probably sells for more now secondhand than it did new nearly 40 years ago!
Secondly, we have cute 'fat' ponies!  Blame the Welsh/Shetland influence on this.  My widest saddle fit has been a pony!  Who would have thunk it????
Thirdly, our cute fat ponies are often croup high (or at least level) and no one appears to have told the saddlemakers that big gussets aren't required.
Last(ly), even if we achieve one, two or all of the above there is often an issue with the saddle looks!  Clumpy seems to be in rather than fine.  No one told the saddlemakers that our mini Ferraris need a finer saddle so the saddle 'sits with' rather than on the horse.
What is the Solution?
We have 4 saddlemakers working on this for us.