The Berkeley Dressage Saddle incorporates all of the refinements expected in a state of the art dressage saddle. Our Berkeley tree has a unique shaped pommel and swept back points to give wither clearance and complete freedom of shoulder movement.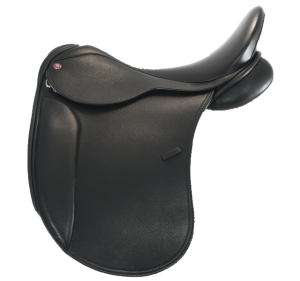 Fitted with our new super slim dressage stirrup bar that will not put undue pressure on the horse or interfere with the riders leg position This models tree has a sculptured waist to give extreme close contact which allows the riders thigh bone to "fall away" effortlessly from the pelvis.
The close contact panels are wool stuffed and are completely malleable allowing them to mould to contours of the horses back. Our unique girthing system enables the forward girth strap to be moved from the point position to behind the point, this coupled with the rear billet attached to a balancing ring will give the correct line up of the girth for superb stability.
The Berkeley Dressage Saddle is crafted in the finest English leathers and is available in X-grip Water buffalo or smooth Bull hide both are manufactured to our exacting standards by Clayton of Chesterfield. These leathers need no "breaking in" period they will give a wonderful close contact feel to the rider.
Sizes: 16 1/2" – 19"
Colours: Black or Havana Brown.
Tree Widths: Medium, Wide, X-Wide, or to Template
Leather Options: Flaps in either X-Grip Water Buffalo or Plain Smooth Bull hide.

Seat and knee rolls come standard with Pittards Tac 2 – a plain leather which has a tacky dressing.
Water Buffalo Nubuck seat and knee pads (extra $60)
French Calf seat and knee pads (extra $60).
This model can be ordered with custom features such as shorter flaps etc at extra cost, quotations upon request.
Note: Our L & R® patented 3 position adjustable stirrup bar is no longer standard on this model as feedback suggested that dressage riders only used one setting! Our new slim-line stirrup bar is attached at this setting.
The slim-line stirrup bar is NOT recommended for jumping.