Booking a Saddle Fitting
What do you charge for a Saddlefit?
We charge a saddlefitting rate of $75 per horse then a travel charge.  This depends on how far away you are. Generally if you are:
within 50km travel charge is $15 ($75 + $15)
50-99km then total fee is $100 ($75 + $25)
100km – 149km total fee is $110 ($75 + $35)
150-199km total fee is $120 ($75 + $45)
200-250km total fee is $130 ($75 + $55)
Over 250km – please contact.
Note: if there is more than one horse on the place to be done then the travel fee is only charged once. So if you live 130km away and have 2 horses the call out fee is $185 ($110 + $75).
From 1 July 2018. Please note: If you have a demo saddle to try we will arrange to collect after 7 days for a fee of $30 or you can arrange for saddle return yourself.
What is your Saddle Fitting Region?
We restrict our on-site saddle fitting region to within around 200km of Mulwala.
This is still a huge area. Encompassing Leeton, Wagga Wagga, Echuca, Bendigo, North of Melbourne (Kilmore, Lancefield) and many other areas. If you live just beyond these areas please contact me and I
'll see what I can do.
This allows us to continue servicing your saddle and fit!
Further a field we are happy to help out via phone and photos. Of course, we offer trials of demo saddles and our 7 day purchase guarantee (special conditions apply – contact us).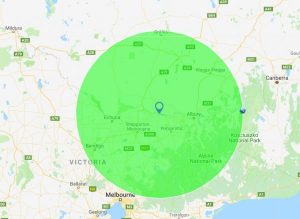 I've had accredited, qualified saddlefitters try to help with no avail – why do you think you can?
Firstly, check when your saddlefitter got their qualifications? Most organisations – especially Society of Master Saddlers UK (SMS) are constantly reviewing and updating their syllabus and qualification criteria. A now outdated fitting thought was that there needed to be at least 3-4 fingers clearance at the wither. Your saddlefitter might not have kept up with the latest research and thoughts on saddlefitting.
Secondly, I hardly ever fit for NOW – I fit for the future. I assess the whole of the horse. The conformation, the muscles, the hooves – everything – both standing and moving. I then decide what is happening now AND what should happen in the future. I've had horses change four (yes, four) gullet sizes in 2 weeks once we found a saddle solution that works.
I'm constantly working with my saddlemakers to offer saddles that suit the Australian environment and horse type. My years of experience has developed a heap of knowledge on things such as:
That WB bloodline that has the deceptive quirk to catch out a successful saddlefit.
That breed that is likely to be croup high
The breed that needs a deceptively wider saddle.
I've often been there and done that – both with my own horses or seen it with others.
I can adjust flocking on the spot – I've listened to saddlemakers on what flock works.
What if I live a long distance away?
If you live beyond the saddle fit region or need something urgently we are happy to courier saddles for trial. Please note that shipping costs are entirely the responsibility of the customer. We have access to competitive courier rates (generally around $50, but will quote first) so please contact us. Obviously the more information you can provide the better chance of finding a saddle that works.
Trial Tips
Provide a daytime address (like work) for courier so you receive the saddle as soon as possible and aren't delayed by no one to receive delivery.
Take Photos! – Your saddle, my saddle, prior to ride, after ride.
Look at sweat patterns – are there dry patches, ruffled patches (photograph if not sure)
FEEL what is happening – do you feel tipped forward or backward? Can you easily get your legs on the horse. Does your horse feel invigorated or sloth like?
Visa or Mastercard must be given for freight. This will also be held as security (but not charged) until a decision is made about the saddle.
Please note: by trialling a saddle you are agreeing to our Trial Saddle Policy – It can be read here
How do I do a Template and What Photos Help?
Part of assessing saddle fit is creating a template and diary of your horse.
When you contact us you may be asked to provide a template and at least one photo of your horse.
Doing a template
You need a flexicurve or similar material that will shape to your horses back and be able to traced on to paper. A wire coat hanger is an example though some can be hard to shape.
Locate your horses shoulder – if your horse is thick set try lifting the front leg and feel for where the shoulder movement up near the wither when the leg is pulled forward.
Once the horse is standing square again (on level ground) place the flexicurve/wire across the back about 3cm from the shoulder (so when you lift it off you end up with a shape like an upside down V or U.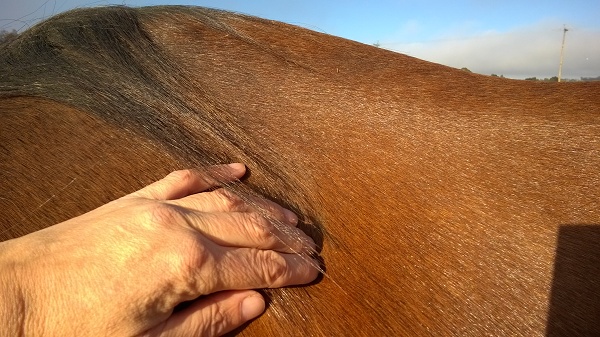 Draw around this onto an A3 or A4 sheet of paper.

You can photograph this and send it to us if this is easier than scanning it (contact us for mobile number)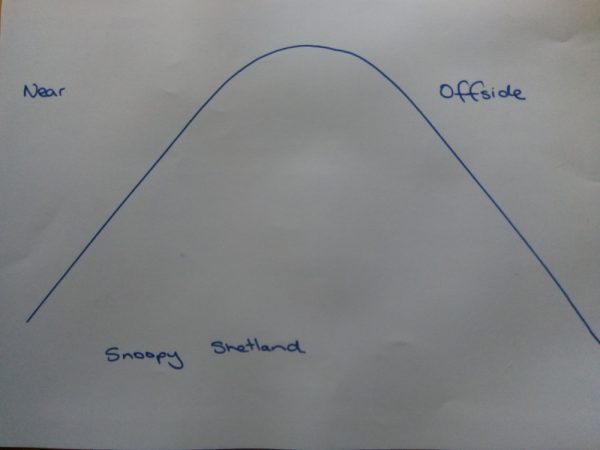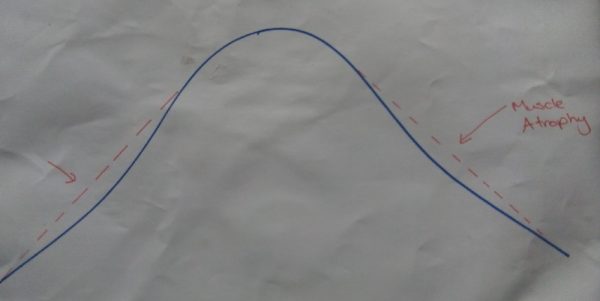 Photos
It is important to send through a photo of your horse side on – whole body including feet so we can judge the back profile of your horse ie: whether it is flat backed, curvy backed etc.  This is important to match the correct tree profile to your horse.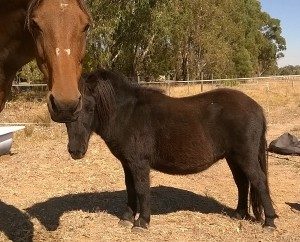 Not like this – Horse is unlevel and whilst we can fit a back this croup high we ultimately want the best outcome. Please include the hooves so I can check how level horse is standing.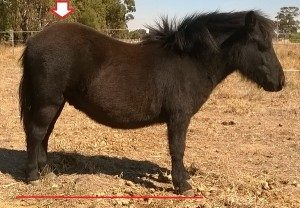 Also helpful is a behind photo (but please only do this if it is safe!)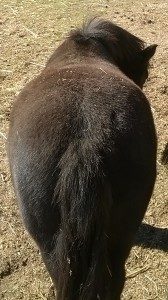 Optional is sending a photo of your current saddle sitting on your horse (girthed up) so I can see what is happening with it.
Please ensure your template has your details on it prior to sending it.
How long can I try Demo Saddles for?
You have 7 days. This maybe extended in special circumstances like bad weather etc.
But you must contact us prior to the 7 days being up.
For more details on  this see our Trial Saddle Policy
What happens if you don't have a suitable saddle?
If we have one in the demo pool – that may already be out with someone else – we can courier (at your cost) or bring out next time. Revisits within 6 months are subject to travel call out fees only, not the $75 assessment fee.
If we have nothing in the demo pool but believe we know what will fit your horse then we may recommend ordering a saddle for you.  Remember that you have a 7 day assessment period if we take this route so you are not buying and praying.
We don't recommend you buy a saddle without trying it.  Horses are their own entity and often will move a lot differently than what the 'standing' horse suggests.
Doesn't paying more for a saddlefit mean I'm getting a better service?
As with everything paying more doesn't necessarily mean all your issues will be solved.
My horse has a 'shark fin' wither! I have to keep getting narrower saddles
Whoa right there! Chances are your horse has muscle atrophy and really just needs a rehab program to correct this. We can work out a programme for you.
[more information to come]
Also see here
My Pony resembles a Thelwell Pony – what are my options?
'Fat' Pony Saddles (cos we know they are just big boned)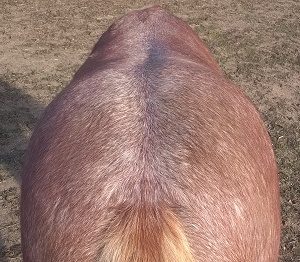 Anyone who has looked for a decent pony saddle will reluctantly remember the frustration caused by the exercise.. Especially if after a specialised saddle.
Firstly, there are very few deep seated saddles out there. Watching our 3 year old bounce around on the end of a leadrein in a slippery, virtual flatseat saddle has the hearts in the mouth of many parents. In fact, the old 1980's Bates Esperance (made in Australia) probably sells for more now secondhand than it did new nearly 40 years ago!
Secondly, we have cute 'fat' ponies!  Blame the Welsh/Shetland influence on this.  My widest saddle fit has been a pony!  Who would have thunk it????
Thirdly, our cute fat ponies are often croup high (or at least level) and no one appears to have told the saddlemakers that big gussets aren't required.
Last(ly), even if we achieve one, two or all of the above there is often an issue with the saddle looks!  Clumpy seems to be in rather than fine.  No one told the saddlemakers that our mini Ferraris need a finer saddle so the saddle 'sits with' rather than on the horse.
What is the Solution?
We have 4 saddlemakers working on this for us.
What happens at a saddlefitting?
At a Saddlefitting we generally start with a few questions and looking at the horse – from the anatomy, muscling and topline to hooves.  We are very hands on as this gives a better idea of what is happening with the horse.
Then we'll look at the current saddle and decide if it can be made to fit. We are happy to point out why a saddle doesn't work.
Assessments normally take 1.5 hours and involves measurements, photos and seeing the horse move and work under saddle – be prepared to ride the horse as a horse static (standing still) can be a very different saddle fit to a horse moving.
We are happy to change saddles, back to original saddle etc to find the best solution for you and your horse.
Whilst we are fitting to the horse today – we are also mindful of changes that might take place over the next few months.  Often once a fitting saddle is used there will be muscular changes in your horse.
If we have a demo saddle that works then there is the option to leave the saddle for a week trial (or book in a trial period if it isn't possible to leave that saddle).
My saddle slips to the side – I've tried special pads – What now?
The key to this is to work out WHY the saddle slips and it can be for several reasons including (and not limited to)
Saddle Tree wrong shape
Saddle panel incorrect
Rider crooked
Horse has muscular issues.
Horse has hoof issues
Horse conformation.
We do a full assessment of what is happening and why. Thoroughly checking the Horse, Saddle and Rider.  We are very hesitant to recommend using 'sticky' pads or expensive girths with no guarantee of a solution.
No horse has defeated me yet and often the solution has been to strip all those extra pads off and simplify things.
Powered by HTML5 Responsive FAQ
Buying a Saddle
Are you an Independent Saddle Fitter?
I get asked this question a lot and I do kinda see where it stems from – the want to have a totally unbiased opinion on what brand to buy – but I do not understand the hoped outcome.
Do people want to have the saddlefitter recommend/fit from knowledge of every saddle available in the Market place?
Or
Are they worried they will be 'talked' into an uber expensive saddle?
Or
Do they like the knowledge that they aren't paying twice (fit and then purchase) to the same person?
To lay to rest some myths or unknowns that seem to be circulating.
1.  Any SMS (Society of Master Saddler UK) Saddlefitter is aligned to at least one brand.  They need to be to hold the qualification.  You can not get the qualification without being nominated by a Walsall Saddlemaker.
The ASFA is a qualification largely geared towards Bates.
2. Personally I do not have knowledge of every brand on the market – but I have my fit principles.  This means by checking fit, horse and watching movement/ridden horse I make an opinion judged on what I see.  I've recommended $100 saddles, I'm a horse rider as well and have kids that ride.  I KNOW how expensive the sport is.  Just ask those people who have seen me ransack their tackroom and blow dust off an oldie (but goodie) saddle how determined I am to see if they already own a solution.
Yes, I have preferences and biases for or against brands but that comes from information I've accumulated from years of doing this.  But if the saddle works I'm not going to steer you towards a new one.  Even if I don't think the current saddle is a long-term prospect (remember I fit for the future) I'm happy to look at options to get you through until a new saddle can be purchased.  At the end of the day – The horse is the best critic of saddlefit, and I listen to what he or she thinks long before a pricetag.
For the last 10+ years of selling saddles I've evolved my brands that I sell.  I've bought brands into my 'stable' only to discount them due to them not doing what I hoped they would do, or finding a better suited brand.  I like to think that by only selling a few hand-picked (or unpicked and pulled apart to see the innards) saddles and working with the saddlemakers I become an 'expert' in the brand.  This is especially important with new saddles as it is a huge outlay and its my reputation (and conscience) that suffers when a buyer is unhappy with their purchase.  By having a large knowledge of what I sell I can give the best possible service and outcome.
I offer a 6 month backup service with all saddle fits (whether you buy a saddle from me or not) – this means if you find a secondhand saddle I'm happy to come out and offer an opinion for the cost of the travel fee.  I'm here to look at photos, ads etc to help you buy the saddle that works.  Because – at the end of the day – all horses are individuals and there is no cookie cutter solution.
What is a Hoop, U, Open Head or Freedom tree?
Here is a photo that shows the difference in trees from the 'normal' tree to a saddle with a Hoop, Freedom or U tree.  (I'll keep posting photos of saddles as I come across them)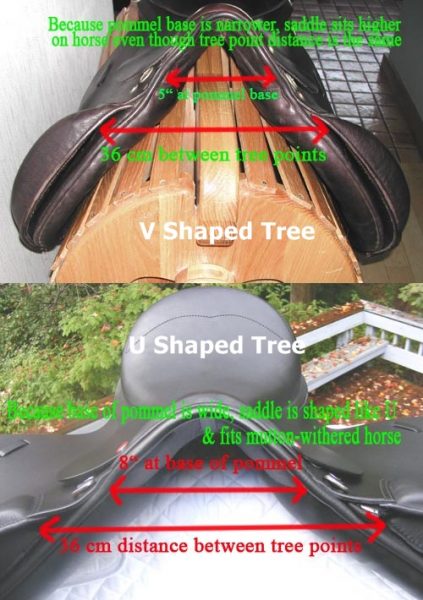 Both saddles measure the same distance at the end of the tree points but as you can see the shape of the pommel is very different.
Different brands call their saddle trees different things.  A majority of saddles are made on a V shaped tree.  Fortunately there are more and more saddle makers (back) building on a Hoop, U, open head or Freedom tree.
The thing is that these aren't a new design.  If your horse requires this type of tree there are old types of saddles that could well fit your horse. Yes, some of those dust collectors sitting in your tackroom could well be more appropriate for your horse than the spiffy, modern saddle you are using.
It is important to note that a Cob tree does not necessarily mean the tree is a U, Hoop, Open head or Freedom tree.  Adjustable trees are mainly V shaped or semi-hoop at best.
To add to the confusion there are Semi-Hoop Trees. These are a cross over between the V-shape and the U shape tree.  We often recommend (and rent) a semi-hoop tree for those ponies and horses that have been in a V shape tree and subject to muscle atrophy.  This is often needed for several weeks to rebuild muscle without compromising saddle fit.
Purchasing a Saddle
Purchasing a Saddle
We appreciate that purchasing a saddle is a big financial investment and will try to help in every way we can to ensure the right fit.
We provide demo saddles and rental saddles to make the decision easier.
We encourage you to send through photos and templates to help make the decision.
What if it doesn't work?
You are allowed a *7 day trial on a new saddle to decide if it is right for you. We encourage you to ride in the saddle but care must be taken with the saddle, any sign of flap abrasion or other marks will result in a 25% restocking fee. Remember that if a saddle shows signs of wear (other than girthing up) we can not sell it as new.
A refund less shipping costs will be provided after the return of the saddle.
*Note: Customised saddles are final sale – this includes saddles made to template that don't fit into the saddle makers sizing range or special customisations you have asked for that differs from the standard.  Your saddle quote will note whether saddle is final sale.
All return shipping costs are payable by you. New saddles can not be sent via AusPost.
To date we have even replaced custom saddles – this is looked at on a case by case basis and is not guaranteed. On custom saddles replacement freight costs ex manufacturer are charged.
*You agree to waive the 7 day trial if you have taken advantage of our 'direct to you' saddle pricing except of manufacturing defects.
How do I order?
All orders must be accompanied by a 50% deposit – if the saddle is a custom-made we may ask for 100% deposit.
The rest is payable prior to the saddle being shipped to you.
What is the cost?
Contact us for a firm price on your saddle. Due to currency fluctuation you may get a better deal than the indicative price list on the website.
Sometimes it takes a day or 2 to get a saddle quote as I need a price from the saddlemaker to give you the best price possible.
How long does it take?
Some of our suppliers carry stock on hand of the standard sizes so the saddle could arrive in Australia within 7 days. Sometimes quarantine creates a hold up, we try to stream line this as much as possible. Often the big delay is caused by shipping within Australia.
If the saddle has to be made this can take 4-6 weeks, sometimes longer but we will give you a production time when giving you a firm saddle price.
Added benefits to buying from us
Within the first 12 months your first flocking top-up is free! (doesn't include shipping cost)
To view saddle prices Click here
Paddle or Saddle for a small pony?
I often get asked about a saddle for a small pony. (Also, my paddocks consist of Shetlands and Welshies)
Personally, I've seen a lot of back issues caused by the use of non-treed saddles (yes, even those expensive paddles).
Here are some of the most common comments I get:
But my kid is only light
Those experienced horsepeople out there will agree that a rider can ride light or heavy. This, in part, has to do with balance. Often learner riders are 'heavy' riders and a more experienced rider can ride a lot 'lighter' (more in balance, not bouncing around).
I can't find a saddle wide enough
This is a big issue. One we are working on determinedly. There are brands that are making wide saddles that are suitable – you just need to be able to find them.
Everyone uses paddles in the show ring
This is mainly because a suitable treed saddle hasn't been available. Also, not true – there are saddles out in the Shetland showring.
The big issue is weight distribution. Pads and Paddles have an issue that the weight isn't distributed well enough and often concentrated at the girth/stirrup bar area. A tree is there to distribute the weight over a greater area of the back.
Signs you need to look for are the presence of a 'wither' on a Shetland with dips behind (or I've seen an outline of the saddle imprinted in the back). Also, if you pony is reluctant to be saddled, girthed or mounted suggests that there is something not going right.
We currently have 11.5″ and 14.5″ sample saddles that are being trialled for suitability (kids job over school holidays) with – so far – good results.
Main issues with the fit – especially on the Shetlands and Welsh Mountain Ponies – are the short back and croup high pony.
[Photos to come]
The other factor is your rider and the suitability of a pad/paddle. Having covered off pony comfort there is rider comfort to consider. Personally, if someone said to me that I should ride my 16+hh Warmblood in a pad or paddle I'd look at you with horror – not that I need a deep seat saddle (I actually ride him in a flat seat jumping saddle most of the time) but because I'm not doing the horse or myself any favours in comfort. I wouldn't do it so why would I expect my kids (who are learning) to do it? Sometimes I wonder if the Shetland got the Sh!tland title due to the unfair expectations placed on it.
Ok – so you have read this and are still determined that a paddle or pad is the way to go here are some pointers.
If you are buying from the UK make sure it is MADE in the UK. There is a lot of cheaper imported saddlery available in UK now. Having worked on top brand saddles where girth straps have literally come off in my hands I am very conscious of the need to put your trust in the maker and nothing says this better than Society of Master Saddlers manufacturers.
Won't courier charges add up?
Yes, sometimes it will. But not to the extent that purchasing an incorrect saddle and subsequently having to on sell at a loss.
I want to buy something but am unsure….
Fully understandable. We offer a 7 day assessment period with our saddle sales. This means you can ride in the saddle several times as a test drive – especially important as horses often take a few rides before deciding the saddle isn't really working for them.
Check here Trial Saddle Policy
Can't I just import myself for less?
Unlikely. Our pricing is based on RRP plus freight and import fees. (plus you get to 'try' a saddle) You maybe able to import a secondhand saddle but there are tales of saddles being held up in customs and 'irradiated' prior to release. Irradiation is very destructive to synthetic – things like the webbing that holds the girths to the saddle tree. Depending on the quality of the webbing this can be a quick or slow disintegration process. None of my saddles are irradiated. I'm not having it on my conscience.
Why does your saddle pricing keep changing?
We try to give you the best possible prices – all our saddles come from overseas and the foreign currency rate is constantly changing. We guarantee to give you the best price possible. As we offer a saddle fit guarantee we maybe able to sharpen our prices further if you know what you want and don't need the guarantee.
Powered by HTML5 Responsive FAQ
Things you don't ask but should
Wither Clearance 3-4 Fingers?
WITHER CLEARANCE
Myth One: Put saddle on the wither ***EWWWW Back up the bus please***
Your saddle should be sitting BEHIND the shoulder. (read that FAQ for more information)
Myth Two: Clearance at the front needs to be 3-4 fingers.
Don't believe me?  Check this – The SMS (Society of Master Saddlers) have now changed their teaching to 'clearance' at the front of the saddle.
Why?
For those with 'high withered' horses – to achieve 3-4 fingers clearance the seat of the saddle would be like a ski ramp with the mid point/balance point of saddle being too far back in the saddle.
(A good indication that the saddle isn't balanced correctly is the rider having a sore lower back after a ride)
This leads to what is wither height.  Wither height is the distance from the top of the shoulder to the top of the wither.  There are those that have no wither above the shoulder.  Wither height is not defined by the hollows behind the shoulder – this is muscle atrophy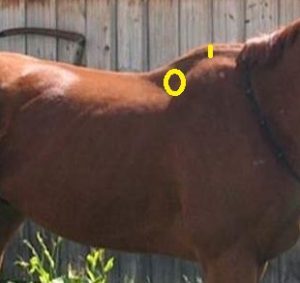 Wither Drop?
This definitely plays a part in Saddle fit.  It is also a variable factor.  Some swaybacks or 'huge' withers are caused by muscle atrophy and the horse can learn to strengthen his back to correct.  The sway is caused by the horse being in pain and 'ducking' away from the pain.
Whilst the horse below will always have a defined wither strengthening the back will have a huge impact on wither drop and subsequently Saddle Fit.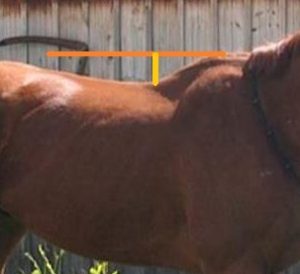 Whilst the above horse will never be a 'hippopotamus' fit he could well be exceeding an X-Wide gullet, with improved movement and less lameness and shying.
How do I know this?  From hands on experience of horses I've retrained.
I'll do a blurb on Muscle Atrophy soon.
Meanwhile – feel free to contact me for more information.
Where to put the Saddle?
Surprisingly this is one of the most common issues I find when I go out saddle fitting… I even get callouts as people are having the issue of the saddle slipping back.
The saddle tree point needs to sit behind the shoulder.
Where is the Shoulder?
Feel it – some horses are more defined than others.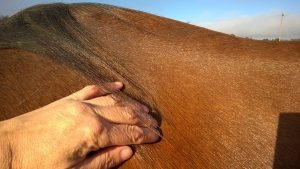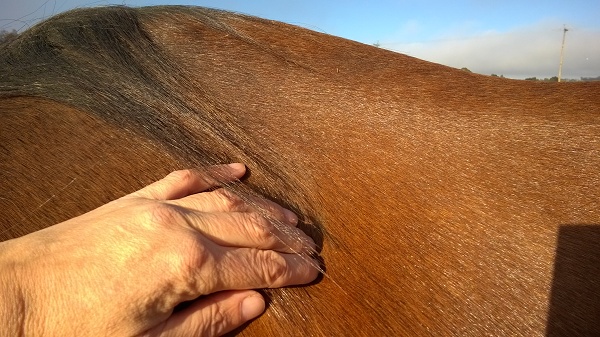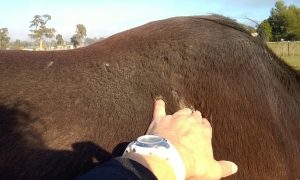 If it is difficult then get someone to lift front leg and move it back and forward.
What is the Tree Point?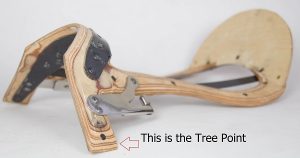 Where is the Tree Point?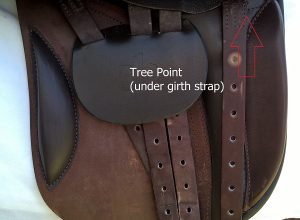 It is near the front of the saddle – lift the flap and take a peek.
It isn't necessarily the front of the saddle – look at jumping saddles that have all that flap compared to a dressage saddle.
Why is the Tree Point placement so important?
The tree point is a solid part of the tree. It's length can vary according to the type of saddle and the horse it is to fit. Some trees have flexible tree points. Some trees have rear angled tree points.
Without going into a Muscular-Skeletal and Body Dynamics lesson (that's what you pay me to know right?) Solid, immovable parts of a saddle must connect with less movable parts of the horse. Therefore a tree point sitting on the shoulder (which moves every stride) doesn't work.
Why I wear Elasticated Bras
"Do not use an elasticated girth – It makes your saddle unstable"  frequently heard quoted, especially for those keg shaped horses and ponies.
What????
That is like saying you should wear a non-elasticated bra… Imagine it?  Last time I looked – my ribcage expanded everytime I breathe.
I frequently go on saddle fits and discover non-elasticated girths (or the supposedly elasticated Wintec girths with limited stretch)…
Hang on – you may say – Elasticated girths haven't featured for long… This is true…  Previously we used leather or string girths that had stretch built in – no where near as much as the modern elastic but natural fibres are generally able to mould and adapt where synthetic fibres aren't as pliable.  And why shouldn't your horse benefit from new discoveries – like elastic.
First up – you having issues with saddle fit, check you are putting it in the right place (see other FAQ on this) then
Secondly – check your girth!!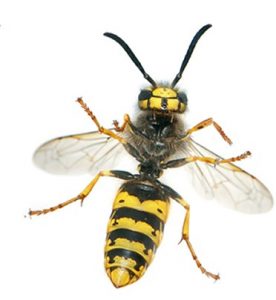 Are you overtightening and giving your horse a wasp appearance?
The news is out that if you need to overtighten your girth to stop the saddle slipping chances are that your tree shape isn't correct for your horse.  [Through normal riding, we will cover mounting soon!]
Thirdly – Check your girth again!  How much stretch  is there?  Then remember spending a day in a bra that is too tight….  Are you getting where I am heading?
There are things in life that shouldn't stretch (stirrups are a good example) – but there are others that have been revolutionised by elastic providing comfort… Girths and Bras.
You would never expect Winx to go non-elastic – why expect your horse.
My Saddle has a Drinking Problem (Part 1)
Sometimes (well for some of us, regularly) we cringe with guilt at the sadly neglected saddlery lurking in the tack room.
How often do you clean your saddle and bridle?
Do you know what products to use and how to use them?
Does your saddle need a quick touch up or a deep therapy session?
Hopefully I can shed some light on these and other questions!
Firstly – What is leather?
Simple huh?  Well it gets slightly more complicated as we go along…..
Saddle leather often comes from a cow – not always but most off the peg saddles are cow related.
Different parts of the cow are used.  The 'cheaper' leather comes from the belly of the beast – it more easily stretches (as said bovine beastie gets bigger and fatter).
The leather has 2 sides – the grain and the flesh side.  For those not in the know… The grain is the outer bit and has fur/hair attached on the living beastie.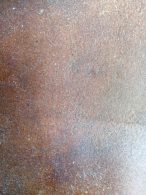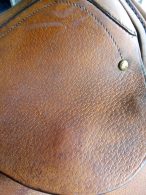 Most of the time the grain is the outside of the saddle (Photos to attach)
Sometimes the bottom flap (under the girth straps) can be grain in against horse or flesh against horse.
There is a point to this exercise…….
The rule of thumb is – Well tanned, good quality leathers have a good slurp factor.  This is how you can tell the quality of the leather on your new (expensive) saddle.  Dab your finger in your leather conditioner and poke it on the grain of the saddle….  The longer it takes to absorb the less quality the leather.
Obviously it depends on what the leather condition is!  Is it cardboard stuff or buttery soft or greasy saturated leaving hands greasy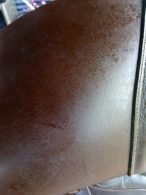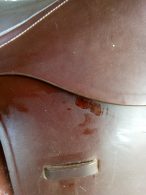 I've got a European saddle here (brand retails new around $3-4k) and the dab is still lurking after a week!  This is not good!
Anyway, totally digressed from the point of this first post….
People often ask me what I like to use on saddles….
Here are my favourites – Different products for different reasons, different costs. Although, I'm sure there are other superb products out there,  I'm happy with what I use so have not really deviated from them,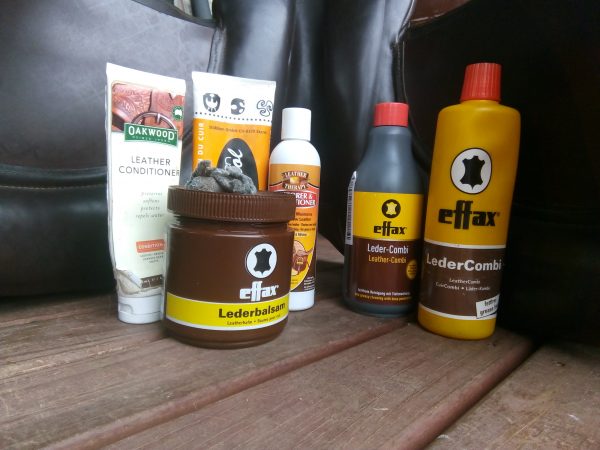 Cleaning Saddle – (news flash – Saddle Soap isn't a cleaning product)
Product Cost – FREE
Damp cloth (Water, doesn't need to be bottled, sparkling or anything special)
Pros:
-Super cheap and can be found anywhere
-Damp that cloth and slither those reins through in super quick time…  Great for last minute touch ups at shows.
Cons:
-Maybe you get disillusioned and feel the need to spend $$$ for that feeling your are taking incredibly good care of your saddle
Product cost – around $20
Effax Leder Combi – recently changed bottle shape.
Pros:
-Makes you feel like a responsible parent/expert saddle caretaker.
Cons:
-Costs money
-You really need to condition the leather after this as it can leave the surface dry feeling (and no one likes dry)
Conditioning Leather
I've moved away from oils –  because it darkens leather and is easy to over saturate (especially if you soak the leather) it also can dissolve stitching.
My favs are:
Effax Leder Balsam
This wee gem has natural beeswax, avocado oil and lanolin etc in it.  (though someone disillusioned me and said it had petrochemicals as well).  However, this has been my go to for years and still features as the first product I reach for.
When Effax was hard to find a while back I tried….
Oakwoods Leather Conditioner (Australian made)
Again – Like the product and is good value for money.
If your leather is a bit of a therapy case – try these products (they have leather tanning ingredients in them)
Stubben Hamanol – hard to get in Australia unfortunately, if anyone knows a source please let me know!  I'm about to run out…..
Leather Therapy Restorer and Conditioner – around $60 473ml Expensive and if you need it you probably need to revisit your care regime but this stuff does what it says….  Its a good one to revitalise those leather halters that have laid half buried in the paddock for months….
How to treat your Saddle
Clean it first!
Then Conditioning – that comes in Part 2. Slightly more complicated to work out what goes where, when and how often to feed your saddles drinking habit.
Note: You do not have to agree with the products I use or the way I use them. Therefore you can make up your own mind how you want to love your gear. If you can control a horse you can control your decisions on cleaning and conditioning the gear.
The difference between good quality leather and cruddy leather isn't always price so check yourself!!! (but good quality leather will look fab for ages and last a lifetime)
The Gossip on Saddle Gussets
Unfortunately Saddle Gussets appear to be more of a fashion accessory than a requirement to fit your saddle correctly.
In the past 40 years the gusseted panel appears to replace the 'old style' saddle gusset.  The justification for this was to allow a greater weight bearing surface for the horse comfort.  This does have some relevance if your rider is nearing the weight carrying capacity of the horse.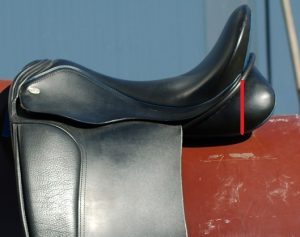 Unfortunately the panel – especially the deep saddle gusset – has led to EXTRA pressure points on the horse in particular the front and back of the saddle if the horse has a curvier back compared to the panel shape.  It also can cause the saddle to 'nose-dive' into the shoulder if the panel extends beyond the 18th rib.
So should we go back to the 'old style'?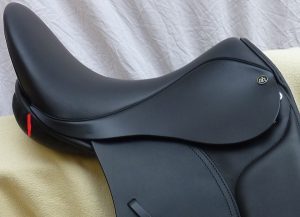 Not necessarily – there is a time and a place for deep and shallow saddle gussets and those in between.
Here is where I earn my $$$.  Amongst other things I get to decide what size gusset would suit your horse.  This is relatively simple when the horse is standing stationery but we need the saddle to fit when the horse is actually moving.  Horses will lift through the back to varying degrees depending on training, breeding and muscle development.
For example – A horse standing stationery, cold out of the paddock or stable will have belly hang or back drop.  When he or she starts working the stomach muscles start working (sound familiar?)  I have a warmblood that "fits" a curvy panel until warmed up then he lifts and is definitely a flat backer.  My instructor was teasing me about 'back saddle flap' and my expertise as a saddle fitter until I said "keep watching". Sure enough, once he was working through correctly and easily the back saddle flapping had stopped.
This is partly why I like people to have a decent ride prior to purchasing a saddle.  Also, I believe partly, why we see so many saddles that have only been used a handful of times.
Going back to the photos above and the 18th rib…  See the difference in panel length on both saddles?  Which one would you want on a short backed horse?
What is Muscle Atrophy and how does it Affect Saddle Fit?
So what is Muscle Atrophy and how does it affect saddle fit.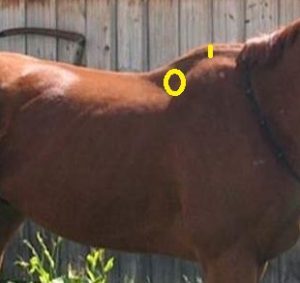 Muscle atrophy is the wastage of muscles where the saddle sits – mainly in the 'junction box' (behind the shoulder just behind the wither).
What causes Muscle Atrophy?
It can be caused by injury but all (but 1) cases I've seen have been saddle fit related.
Which means?
You can change the shape of your horses back through incorrect saddle fit.
Sadly most people do not realise what an impact saddle fit is having on their horse. Most horses are obliging creatures who put up with a lot. The following are what I've seen that can be an indicator of bad saddle fit.
– Reluctance to go forward, can include laziness and lack of impulsion to rearing and bucking!
– Lameness
– Shying
– Girthiness
What's the Beginners guide to tell if my horse has muscle atrophy?
When you do a wither template there will be inward curves in extreme cases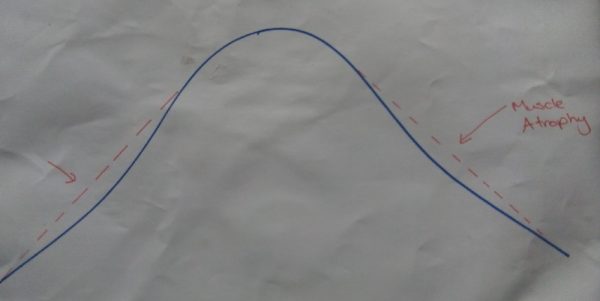 A well conformed wither should show a nice curve with no 'sharp' points or flat or inwards.
+add photo+
So – with the correct saddle I'll be in line for the next Olympics?
Sadly no – saddle fit is just one of the building blocks to help you on your way.
Why does my horse seem to get narrower and narrower?
This is one of the classic signs of muscle atrophy. Other than obvious overweight issues a horse should not get narrower and narrower when in work. Toned muscle is defined muscle, toned muscle doesn't get smaller and smaller with work. One of the crazy things about horses is that when they are wearing a too-tight saddle they go into 'self repair' mode of not using the muscle that is getting sore. This is a vicious cycle of horse losing muscle so rider gets a narrower saddle, so horse loses more muscle. A horse won't develop muscle where there is no room to grow. It will try but if it doesn't succeed will go into atrophy.
How does this relate to the way you fit?
I try to fit to where the horse should be given the workload and expectations.
A potential FEI dressage horse would have a different expectation to a pony club hack doing beginner dressage tests.
This means finding the optimal point.
More to come
Short Back Horse Dilemma
About 20 years ago the 'fashion' in saddle making was moved towards large gusseted panels. This was marketed as allowing more weight distribution for horse and a good thing… But is it?
Couple it with the slightly croup high horse and you aren't doing your horse any favours with the large panel gusseted saddle.
What happens if you have a short backed horse?
Several of my suppliers/saddle makers are turning back the clock to help with the short back dilemma.
One of our Lovatt and Ricketts demo saddles has the old style panel on it.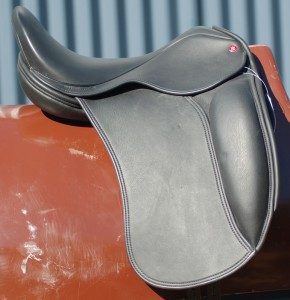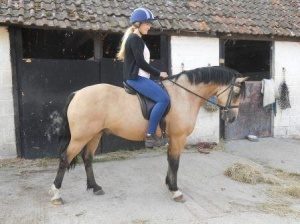 (Also read our FAQ on gussets)
Template – that sounds scarey….
Not at all – follow the instructions here and enclose the photos.  Provide as much information as possible, what saddles you have tried etc as often this helps decide what tree shape suits your horse.
Powered by HTML5 Responsive FAQ